Barcelona Lounge Chair
A vintage Barcelona chair in the style made famous by designer Mies Van Der Rohe. This one dates from the 1980s and is very well made with individual pieces of leather stitched together for the cushions, a sign of real quality.
£225
1940s Filing Drawers
Vintage index filing drawers by 'Art Metal' of London. The drawers come in sets of 4 and can be bolted together to make one statement unit, or broken down and used individually as table top storage
*Price for statement unit on request*
Salvaged Large Copper Letters
A selection of large copper letters, all with a wonderful worn finish to them. Letters available are S N A B F L D O C and T
Height of 38cm
£20 each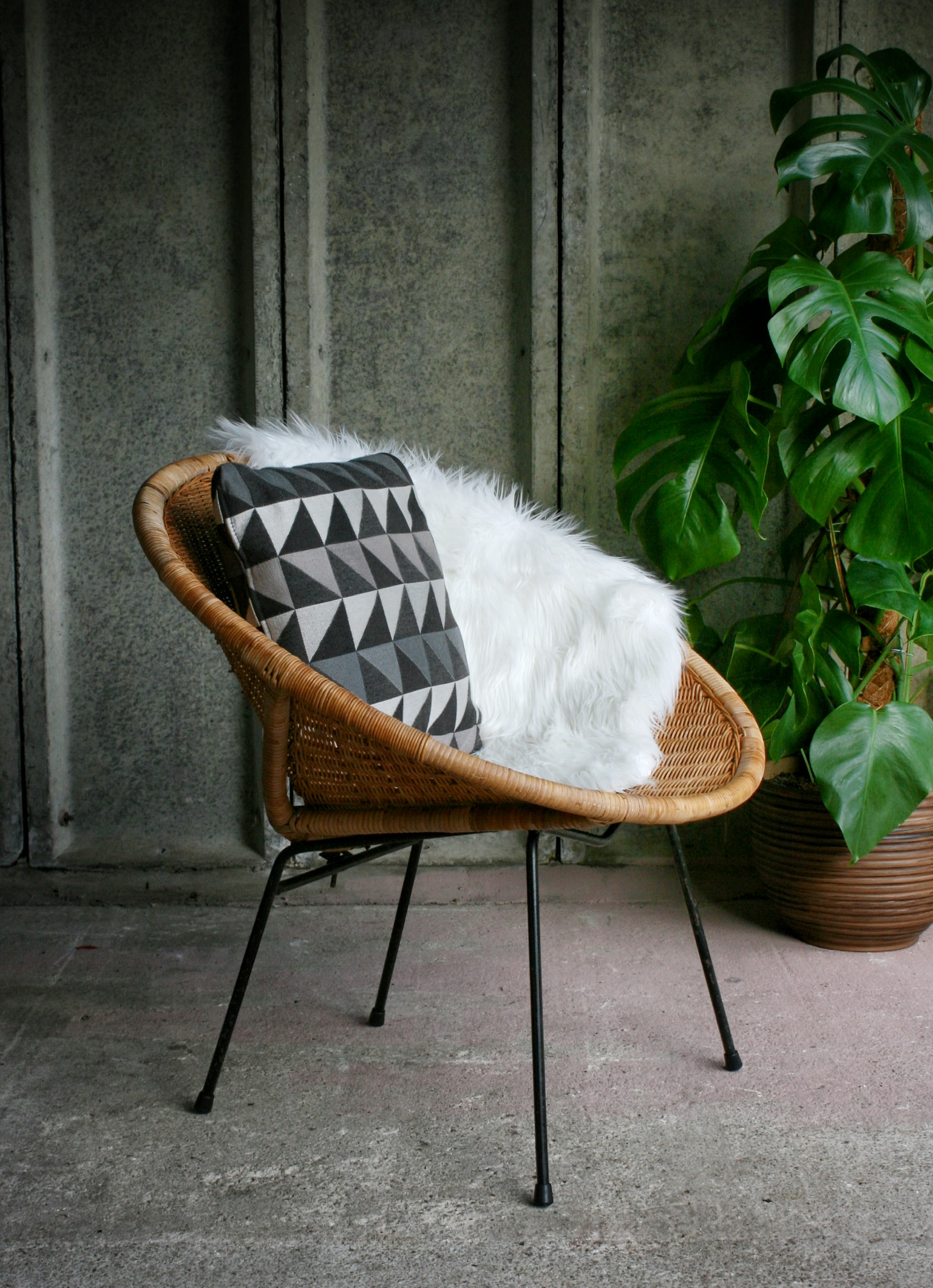 1960's Rattan Chair
Lovely original mid century rattan basket chair
£115
Mid-Century Footstool
Recently re-upholstered in white, and with beautiful sleigh style raised legs.
60cm width x 48cm depth x 40cm height
£35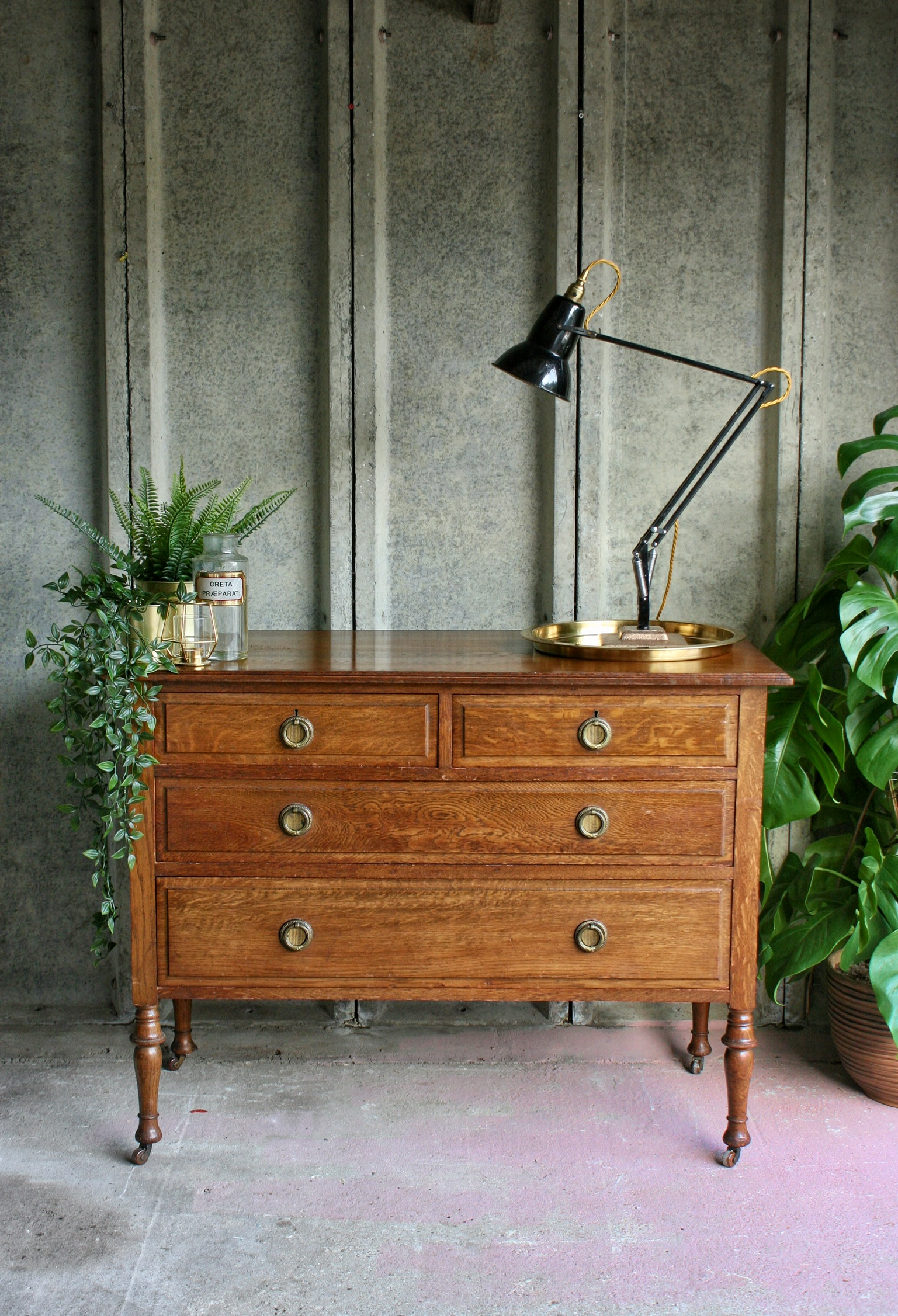 Antique Oak Drawers
A gorgeous 2 over 2 set of oak drawers, with brass pulls and castor legs
£110
Eero Aarnio Style Pod Chair
A design classic, the pod chair is finished in high gloss white fibreglass with high quality leather-tex seat insert. Mounted on castors for 360 degree movement
95cm circumference x 75cm height to back x 35cm height to seat
£125
Early 20th Century Anatomical Chart
By renowned makers 'W & AK Johnston' titled 'Organs of sense and voice' Beautiful colours printed onto a linen paper backing and with original banner holders at each end.
75cm width x 97cm height
£95
Vintage Swedish Floor Lamp
Great condition on this 1970's floor lamp from Sweden. Fully adjustable and sitting on original castor base
£130
Vintage Coffee Table
A long, low Danish style coffee table in teak by makers Myer
115cm width x 36cm depth x 35cm height
£65
Vintage Trunks and Suitcases
Various sizes and finishes of trunks and suitcases currently in stock
Please enquire for prices and dimensions
Vintage Oriental Cabinet
Finished in a beautiful red laquer, this unique oriental cabinet is a true statement piece.
£245
Vintage Salter Kitchen Scales
A set of vintage family kitchen scales by Salter
32cm height x 24cm width
£50
Mid-century writing Bureau
A fantastically conditioned mid-century writing bureau by Remploy
106cm height x 92cm width x 42cm depth
£140
1940s Filing Drawers
Vintage index filing drawers by 'Art Metal' of London. The drawers come in sets of 4 and can be bolted together to make one statement unit, or broken down and used individually as table top storage
£70 per unit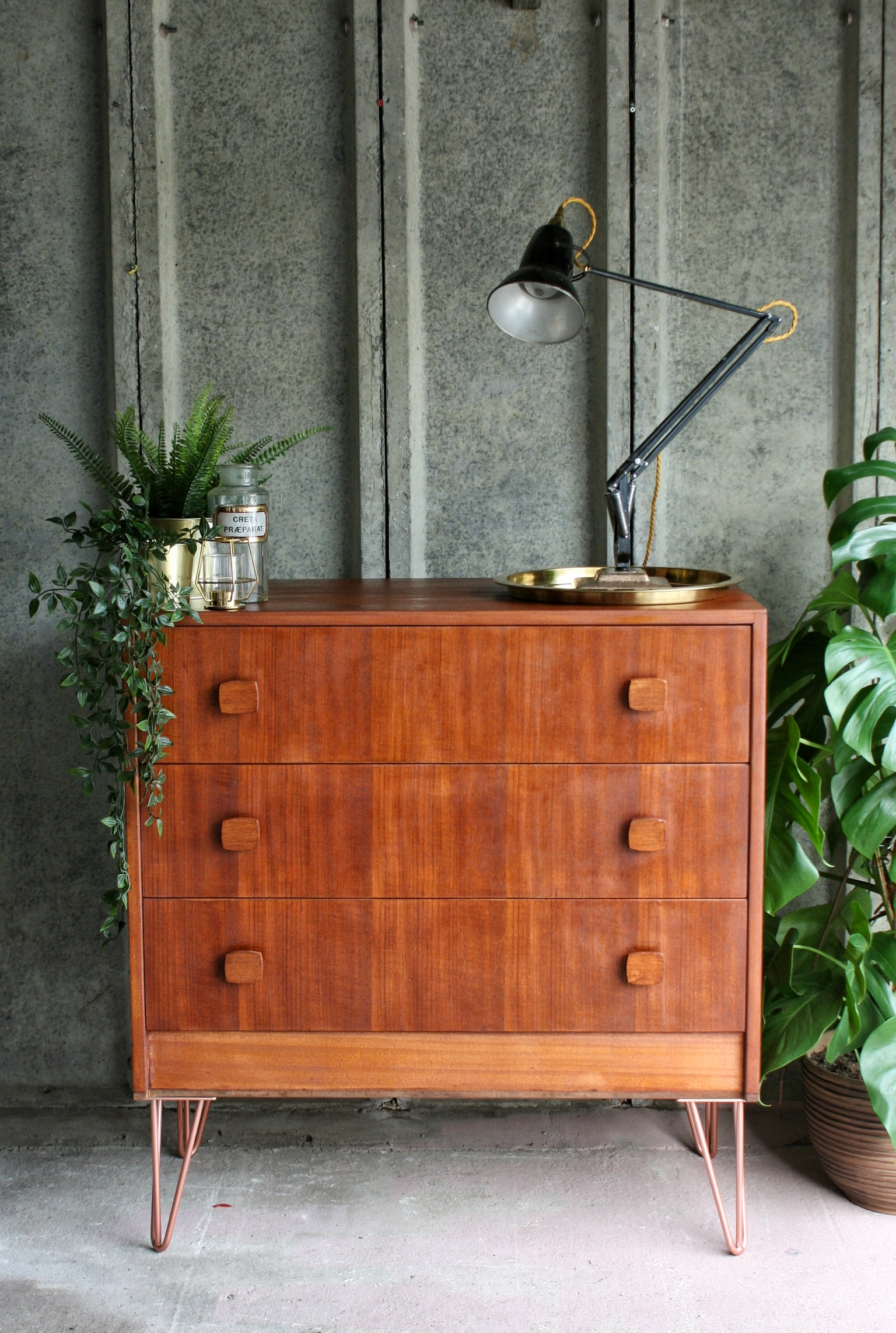 'Herbert Gibbs' mid century drawers
A lovely set of mid century drawers by maker 'Herbert Gibbs'. Fully refurbished and mounted on rose gold hairpin legs
£150
Investiture Chair
Highly collectable Iconic red chair used at Prince Charles's 1969 investiture in wales. Designed by Lord Snowdon and built by Remploy.
54cm width x 53cm depth x 78cm height to back x 43cm height to seat
£385
Anglepoise Model 1209
A post war 4 spring Model 1209 Anglepoise desk lamp manufactured by Herbert Terry & Sons,Redditch, England
Height (max) 115cm x Width 14cm x Base 20cm
£195
Industrial Machinist Chair
A beautiful vintage industrial bentwood metal swivel machinist chair. The chair is formed with the base being made from painted red metal with a central support. The base of the seat and back are made from wood. The chair swivels and is height adjustable with a screw underneath.
£115
Vintage Vaulting Box
Dating from around the 1960s this decorative leather topped vaulting horse has beautiful patina on the wood. It breaks down into sections, allowing the top to be used as a statement bench for sitting.
£180
Antique Gas Lamp
This is a very early 1900s Prussian enamel gas lamp which has been restored and converted into a wonderful statement ceiling lamp.
£145
G-Plan 6250 Mid Century Footstool
Another Iconic mid-century piece - Gplan 6250 footstool with castor base and chocolate fabric finish
60cm width x 44cm height
£185
Singer 'Boot patcher' Machine
Early 20th century Singer model 29k boot patcher machine.
72cm width x 40cm depth x 113cm height
£375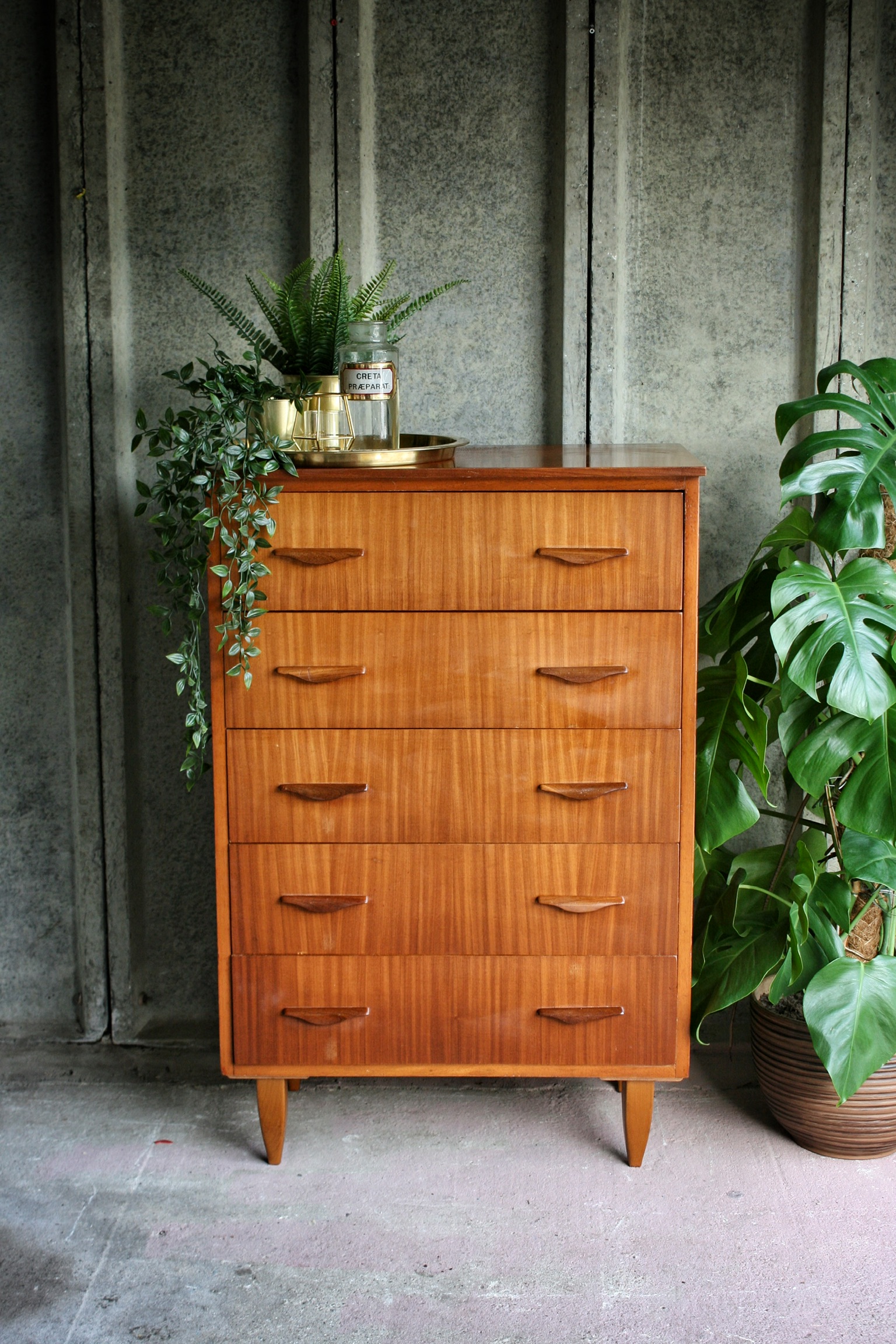 Mid-Century Drawers
Teak veneered 5 drawer mid century vintage tall boy in good condition
72cm width x 106cm height x 42cm depth
£85
1960's Children's Trike
Vintage 'Cadet' Tricycle by Raleigh
84cm length x 42cm height to seat
£45
Vintage Floorlamp
Rare and beautifully conditioned 1960's studio floor lamp on full castor base with adjustable height
160cm height (can vary) x 115cm width
£310
Singer Sewing Table
A repurposed vintage cast iron singer sewing machine base, with scaffold board table top and original side drawers
90cm width x 78cm height x 45cm depth
made to order
1960's Maclamp
This is a vintage, all original Maclamp desk/table lamp in cream with wooden arms. It was designed by Terence Conran for Habitat in the 1960s.
£95
Vintage 'Wilson and Garden' Blackboard
This large freestanding vintage roller board was made by Wilson and Garden, Ltd, in Glasgow, UK, during the 1950s. It is made from wood and a blackboard canvas, with the original makers label still attached.
Width 131cm x Height 185cm x Depth 60cm

£295

Mid-Century Teak Mirror
In fantastic condition, this Mid-century angular framed teak mirror has a beautiful wood grain with round corners to soften the frame.
62cm length x 38cm width
£45
Victorian School Desk
Late 1800's, this antique fold down exam/school desk has bags of Glasgow history. With cast iron brackets stamped 'Calton Glasgow', the wooden top and decorative legs have a beautiful wear to them.
£115
Set of 6 G-Plan Dining Chairs
Later period set of dining chairs by G-Plan, all in fantastic original condition with makers label.
84cm height to back x 41cm height to seat x 65cm width
£90 for the set
G-Plan Small Wardrobe
Gentlemen's wardrobe from the early 'Tola' range by G-Plan circa 1960. Good vintage condition, mounted on ebonised wood legs with brass detailing
140cm height x 80cm width x 50cm depth
£95
G-Plan Extendable Dining Table
A large extendable vintage dining table by G-Plan
144cm length (190cm extd) x 99cm width x 72cm height
£85
Antique Folding Dressing Mirror
A good sized and beautiful antique tri-folding dresser mirror with ornate frame detailing
105cm width (fully extended) x 75cm height
£70
Cryselco Industrial Pendant
Stunning colour on this vintage hanging parabolic pendant shade by British maker 'Cryselco'
£50
Machinist's Swivel Chair
Probably used in an industrial sewing factory, this vintage chair swivels 360 degrees and has an adjustable height setting too
£55
Anglepoise model 90 Desk Lamp
Vintage desk lamp by Anglepoise - model 90 in Silver grey finish
£65